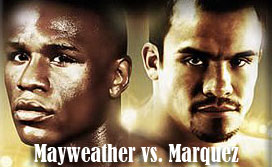 The official weigh-in of the
Mayweather vs. Marquez
Number One vs. Numero Uno event has just concluded and was webcast by HBO today. It shows the weigh-in of the undercards and the stars of the fight, Floyd Mayweather Jr. and Juan Manuel Marquez. On the said weigh-in in MGM Grand Arena in Las Vegas, boxing legends were present namely: Thomas Hearns, Victor Ortiz, Sakio Bica and, of course, Oscar De La Hoya and Bernard Hopkins.
The result shows that Mayweather missed the 144 pounds limit and will be financially penalized for doing so. He is weighed 146 pounds while Marquez is 142 pounds only and too heavy for the latter. It will be a great deal to handle for Marquez and boxing analysts are worried about this.
Here's the official weigh-in results:
Orlando Cruz (126 pounds) v. Cornelius Lock (125 pounds)
Michael Katsidis (135 pounds) v. Vicente Escobedo (134 pounds)
Chris John (126 pounds) v. Rocky Juarez (126 pounds)
Floyd Mayweather Jr. (146 pounds) v. Juan Manuel Marquez (142 pounds)
For information regarding watch it this Saturday, just visit:
Watch Mayweather vs. Marquez Online
now.