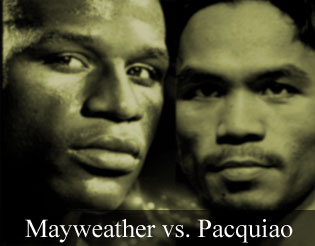 On the latest interview with the people's champ and reigning pound for pound king
Manny Pacquiao
, he told everyone that he wants Floyd Mayweather, Jr. to be his next opponent on his next fight. Mayweather who will face Marquez on the ring on his come back fight is still considered to be undefeated because of his record of no lost on every match that he undergone. He even beaten Ricky Hatton on their last fight. I think one reason why Pacman wants the Pretty Boy on the ring because he wants to break the record of the latter and at the same time it is what his camp thinks to be one of the possibilities of earning higher on pay per view.
Well, let see if the Pretty Boy will still be as pretty as undisputed as ever after the
Mayweather vs Marquez match
. For the meantime, he needs to prove himself to the world and to Pacquiao that he is a worthy opponent and let see if the next banner that we will see on the front of the MGM Grand Arena will be
Pacquiao vs Mayweather
. What do you think, is it possible that the two will meet on the ring? If you don't like them fight, who do you want to be the next opponent for Pacquiao? Mosley or Cotto or any other name in mind?